O dată cu posibilitățile multiple de exploatare a gazului metan în propria locuință, a apărut și nevoia de a suplimenta siguranța în utilizarea acestuia.
Thus, in addition to the solutions in the Homplex portfolio for gas supply installations in the residential environment, such as flexible extendable fittings, gas pressure regulators or taps, we have also developed the Sn02 semiconductor sensor methane gas detectors built entirely in Romania.
After the launch of the HD100 wired detectors, we continued to innovate and integrated into the Homplex portfolio a new wireless radio frequency detection solution (the first of its kind in Romania at that time) – the HD100 RF and its compatible finder, the HD200 RF.
This year, we are expanding our solutions for protection against gas leaks, so this spring we launched, in addition to the gas detector HD100 PRO (you can learn more about it here) and the intelligent programmable room thermostat Homplex NX1, methane gas detector HD100 Double Control – a local first, being the first solution in Romania to allow simultaneous control of two separate solenoid valves.
The first output of the new Homplex gas detector is with normally closed and normally open contacts of up to 8 amps at 250VAC (Alternating Current Voltage).
Instead, the electrical actuation of the second output can be done with normal open contact with a maximum potential of 1.5 amps or 12 VDC. It can be used to connect a solenoid valve or it can be used to integrate the detector into other systems, such as BMS (Building Management System).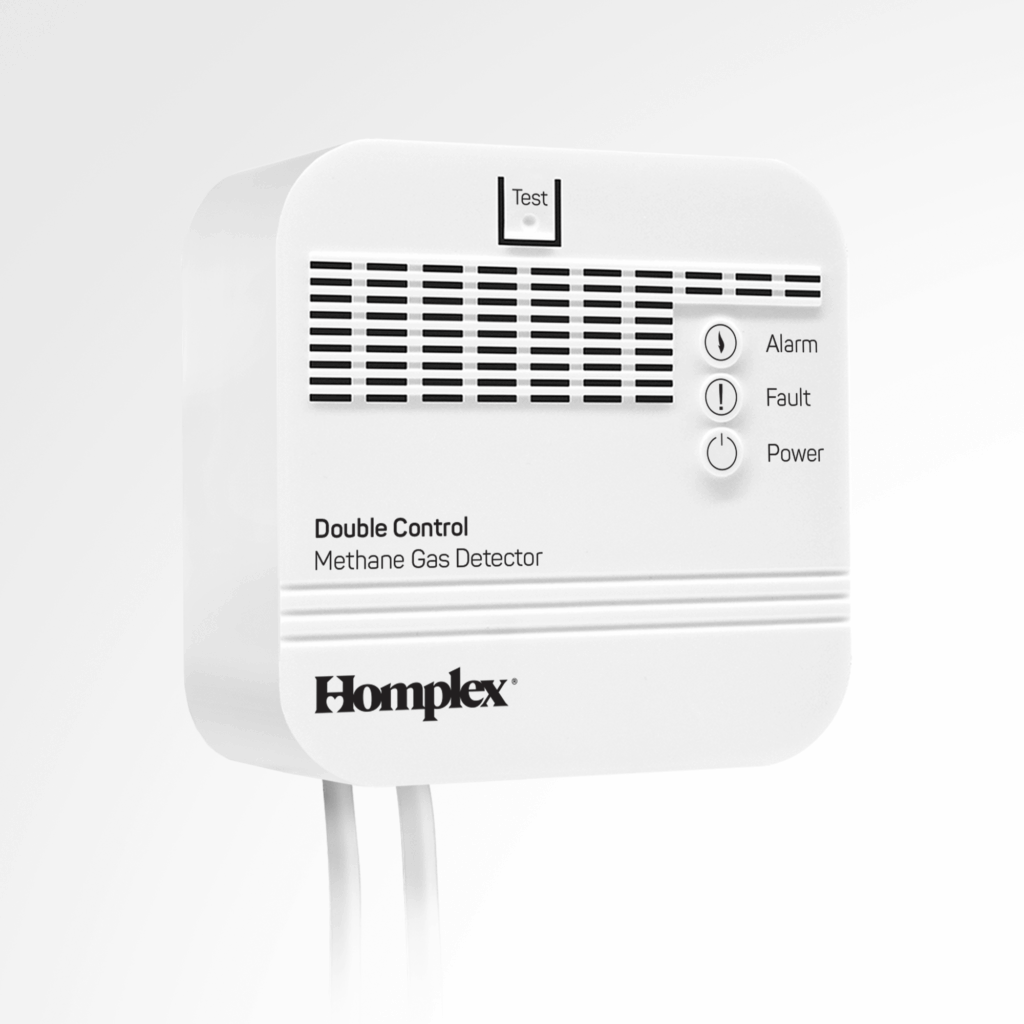 As for connecting the detector to the central heating system, the HD100 Double Control can be connected with a minimum 2 x 0.75 mm double insulated two-wire cable, the length of which must not exceed 50 metres.
In the event of a methane gas leak being detected, the HD100 Double Control will generate an electrical impulse to both outlets when the audible alarm and the lights go off, thus shutting off the gas supply to reduce the risk of a deflagration.
The HD100 Double Control complements the Homplex portfolio of residential solutions launched this spring and is our response to the dynamics of the market and the demands of professionals in the field.