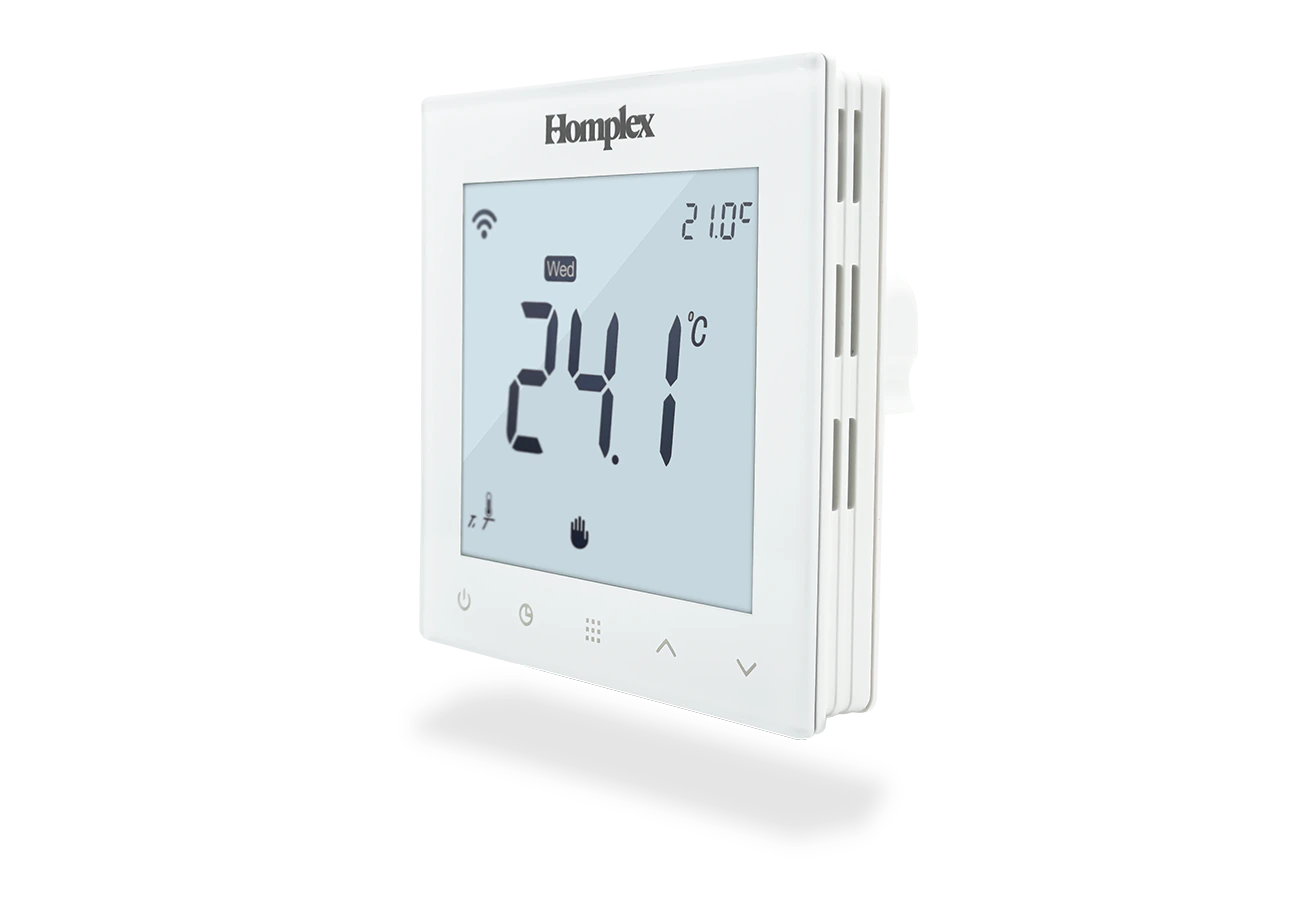 Description
Homplex 922 Wi-Fi White is a programmable floor heating thermostat. It is installed in the canister and allows besides local control of the heating also control via the internet with the Tuya Smart mobile app.
Download the Tuya Smart app to your smartphone and control your Homplex 922 Wi-Fi White room thermostat from anywhere using an active internet connection.
The thermostat has a modern look that blends into any home. The large screen, touch buttons and internet control are just some of the benefits of this thermostat.
ATTENTION! The White version of this thermostat does not allow adjustment of the hysteresis or change the sampling time of the temperature sensor. If you want these options too, choose the black version!
Informations
Functions
Touch buttons
Control your thermostat at the touch of a button!
For underfloor heating
Homplex 922 Wi-Fi White is a programmable thermostat used for underfloor heating!
Just see what matters
The Homplex 922 wifi black room thermostat's LCD screen simultaneously displays the room temperature and the new set temperature when changes occur.
Specifications
Thermal underfloor heating, Smart IoT
Manual, Temporary hold, Scheduled
Temperature setting range
Temperature selection step
Screen illumination duration
30s, 30s and after decreased by 20%, Permanent
Temperature display recalibration, Freeze protection, Settings retention
Smart Thermostats
Smart thermostat Homplex 922 Wi-Fi
Smart Programmable underfloor heating thermostat
Touch buttons

For underfloor heating

Just see what matters
Related Products
Expand
Contract